More high-rises fail fire safety tests
Cladding on 60 high-rise buildings across 25 local authority areas in England has failed fire safety tests, the government has said.
There are plans to test the fire resistance of cladding on up to 600 buildings following the Grenfell Tower fire in North Kensington on 14 June.
The Department for Communities and Local Government said all buildings examined so far had failed the test.
Councils were told to prioritise buildings they had most concern over.
Not all the buildings affected have so far been named but a list from the DCLG identifies 14 of the areas:
Separately, cladding is to be removed from nine tower blocks in Salford, while Bootle said two buildings had cladding that failed tests.
The update came as Camden Council said it had told about 200 residents still refusing to vacate four of its tower blocks on the Chalcots estate that they "must leave" to allow improvement works to go ahead. The majority of the residents were evacuated on Friday night.
Firefighters had said they could not guarantee the safety of the buildings, which has cladding similar to Grenfell Tower where the fire is feared to have killed 79 people.
Camden Council leader Georgia Gould said officials would be visiting the residents still in their homes and continue to arrange temporary accommodation in hotels and other council properties.
She said there were "various legal routes that Camden Council could explore. However, we really don't want to do this".
She said: "Most of the residents are willing to go, they are just waiting for the right accommodation. They're scared, they want to be sure that they can come back… the right approach is to work with them."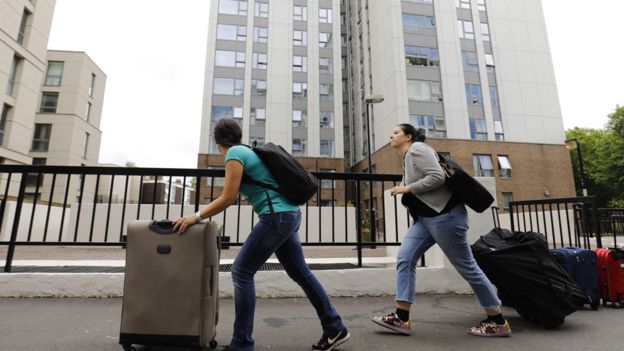 Chalcots was refurbished between 2006 and 2009 by the same firm, Rydon, that oversaw work at Grenfell Tower in 2015-16.
'National disaster'
The government testing programme began on 21 June, with local authorities asked to submit cladding for examination.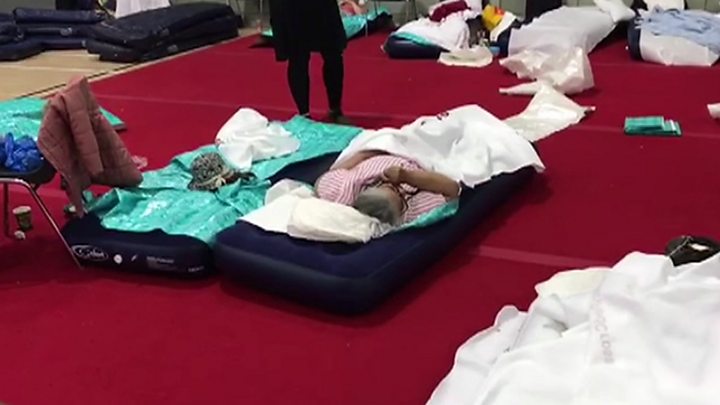 Speaking on BBC Radio 4's The World This Weekend, Lord Kerslake, the former head of the civil service who who now chairs the Peabody housing association in London, called for the testing process to be accelerated.
"We are told they can do 100 a day – that should be the number they are meeting," he said.
He added: "This is clearly a terrible national disaster and demands a national response. As well as the public inquiry on the lessons learned we need to establish where the areas of the highest risk are and take action immediately. That's been a priority for me."
The Local Government Association said some councils have introduced 24-hour warden patrols to mitigate the risk before cladding is removed.
It said in a statement: "Where cladding fails the test, this will not necessarily mean moving residents from tower blocks.
"In Camden, the decision to evacuate was based on fire inspectors' concerns about a combination of other fire hazards together with the cladding."
The LGA said it was advising councils still waiting for test results to prepare contingency plans "so they can take any measures needed quickly".